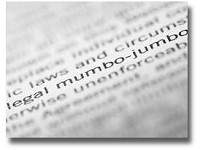 The information appearing on Robert Rath's site 'Innovation Mentor' is of a general nature and is not to be relied upon as being complete, accurate or up to date. The information is subject to change by Robert Rath at any time without notice. If you require confirmation of any information please contact Robert Rath.
Subject to any terms which can not be excluded at law, Robert Rath accepts no responsibility for any loss, damage, cost or expense (direct or indirect) incurred by or as a result of any error, omission or misrepresentation in any information on this Site.
Robert Rath is not responsible for the content of any site linked to this Site or services provided by third parties as a result of information/services provided in relation to this Site. Sites or third party services which are linked to Robert Rath's Site should not be construed as an endorsement or any other type of representation by Robert Rath regarding the goods or services offered by that third party.
Website Privacy Policy
This Privacy Statement applies to your use of Robert Rath's Site.
The National Privacy Principles, the disclaimers detailed on this Site and any privacy policy enacted by Robert Rath form part of this Privacy Statement. The Australian National Privacy Principles are available on the Privacy Commissioner's web site at http://www.privacy.gov.au.
The use of this Site implies you consent to this Statement. Please contact Robert Rath if you have any concerns regarding this Statement.