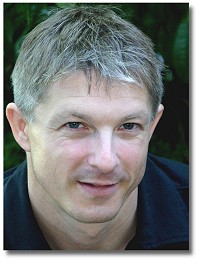 Robert Rath is a dedicated technologist, creative designer and innovation advocate. He is sought after by start-ups and large corporations alike for his depth of skill and breadth of capability. He has extensive experience in new product design and development, operational systems and the development of business innovation.
Robert has a proven track record in technical and innovation leadership, in the evolution of business processes, in managing intellectual capital creatively and in taking ideas through to commercially successful products. Robert is passionate about innovation: innovation in technology, innovation in business and innovation in the way we live our lives and how we interact in the world.
In 2009 through 2010 Robert created a range of Internet appliances for home automation, access control, near field RFID and biometric security for both Australian and international companies.
In 2008, Robert created for Australian company PeopleKey a scalable engineering platform for the ongoing development of the PeopleKey range of biometric products. The Linux-based platform includes Subversion, Trac, Eclipse and VMware server to host all hardware, software and security design activities in a secure and scalable environment. This gave PeopleKey full control of all internal and contracted operations.
In 2007, Robert designed from the ground up a new biometric internet appliance for PeopleKey using a MIPS32-based MCU and Linux as the host operating system. He ported the customer's existing application code from its original ARM7 sources, created new hardware drivers and substantially enhanced the features and user experience of the product. Robert was also responsible for commissioning the Chinese manufacture of the product including BOM specification, assembly structure, firmware management and production programming.
Robert co-founded joint Australian/Hong Kong start-up company TDA Tech in 2005, which now provides OEMs with products and security capabilities for digital transactions on devices and home network appliances. Robert recruited the Australian engineering team, created its underlying operational structure, managed the Australian software and hardware design teams, and coordinated the configuration management of the Chinese engineering team in Shenzhen.
Prior to 2004, Robert provided design, operations and business assistance to companies such as Deloitte, Gerard Industries, Carrier Air-Conditioning, Brivis Climate Systems, Sonic Innovations, Tekelek Australia, Tekelek Europe and others. His engineering and business development roles involved international representation in the USA, Europe, Singapore and China.
Robert is also a prolific web publisher, and writes about creativity and innovation. He is fascinated by the way that we are now using on-line collaborative tools such as blogs, wikis, forums and other social networking sites for learning and sharing our ideas.
Although Robert's technology, innovation and business transformation journey began formally in 1985 with Clipsal, he has always been – and continues to be – fascinated by, and involved in, the 'the next new thing'.
e: robert.rath@inceptu.com m: 0409130507 p: 61 8 71271147 w: www.inceptu.com