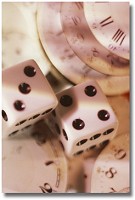 In his article 'Reasonable approach to risk management', Zern Liew draws our attention to the issue of managing business risk from a governance perspective. He asks the question; what does doing a good job at risk management actually mean?
In my opinion, if a business only ever managed risk with respect to governance it puts its future existence at risk. Now that's risky!
Risky Business
Doing business is risky, commercial relationships are risky, developing new products and services is risky, suppliers are risky, supply channels are risky. In other words risk is an intrinsic aspect of our business environment. How such risks are managed comes down to such things as culture , values, personalities and style. In some cases business have a well defined protocol and procedures for managing risk but these are in the minority and usually associated will businesses who deal in risk as a commodity. Is it any wonder that risk management is such a grey topic.
A Past Risk Experience
I have one experience where I watched the managing director of a company 'risk manage' a once creative, innovative company into a timid, reactionary former shell of itself. By all observed accounts this manager was fiscally diligent, managed corporate governance issues without fault and would probably make the claim that they had done everything reasonable that can be expected to protect the business. To this manager a 'risk' was something to be avoided rather than managed. Risks were seen as the things which could go wrong with the 'status-quo' and these were indeed managed well. Innovation was seen as simply too risky.
Innovation, Risk and Reward
Innovation and risk go hand in hand. A new idea which flies in the face of convention carries a risk so great that any responsible manager would drop it like a hot potato. These ideas begin their lives as huge uphill battles with individuals being willing to risk their reputations, careers, businesses or fortune. These very same ideas have brought us such life changing products as convenience foods, air travel and personal computers. Even a modest new product development program is risky to a business in terms of cash, time and resources.
There are plenty of very good articles about managing risk and reward. Some of the best are written aimed at the trading industry where risks are a necessary part of the process. Innovation should be treated just the same, as a risk taken for a potential reward. Like trading, the certainty does not come from picking the right company, backing the right horse or coming up with that killer innovation, but rather comes from being consistent at taking well considered risks. The risks in developing innovative new products, risks in creating new business relationships, risks in exploring new supply chain models are the kinds or risk businesses actually need. Avoiding these risks is truly risky business.
My Take



I believe that good risk management will not only look at the negative consequences of not being prepared for something which might happen (traditional risk management) but also the rewards to be gained by actively taking risks. By managing negative consequence risk diligently and sensibly taking on the high reward risks, a business manager can confidently say that they are doing everything possible to protect their business.
Robert Rath – http://innovation-mentor.com